it's always about the details when it comes to deep cleaning. When you spend the effort to clean the areas of the house that seem to be more difficult to reach, you'll notice how much more orderly and welcoming your home feels. Create a cleaning schedule, choose a room, and make a fast trip to the shop to get started. Then get ready to handle all of the intricacies that our thorough cleaning recommendations cover.
Benefits of Deep Cleaning
There is no one-size-fits-all solution for maintaining a happy and healthy environment in a home. Keeping it tidy is another tried-and-true method of making it a pleasant place to live. Once the creepy crawlies have teamed strive to form your house their home, it's time to take command and begin deep cleaning. There are various advantages to deep cleaning your home, believe it or not.
Prevents Viruses, bacteria, and other toxins: In dirty environments, all types of rebellious bacteria and viruses thrive. The more filth you bring into the house, the more bacteria you'll introduce. While regular surface cleanup may keep some of the smaller germs away, only a thorough cleaning can completely eradicate the larger bacteria lying beneath.
Deep cleaning improves the quality of the air within your home: Illness and infections have been related to poor indoor air quality. But, allergens, such as dust mites, are reduced when floors, furniture, and walls are well cleaned in your home.
A deep cleaning helps to relieve stress: A tidy home can help you relax, even if you don't realize it. Even if it's only once every six months or so, deep cleaning your home helps to purify your living area and welcomes a more tranquil and healthier environment. You may have a healthier house by getting rid of dust, waste, clutter, and dander.
When should you do a deep cleaning?
However, you should deep clean your home more than once a year. Seasonal cleaning, or after every three months, is one option. Another approach is to break down your thorough cleaning list into shorter weekly or monthly jobs, completing one area or 1 to 2 tasks per week on a regular basis; it depends on the number of persons living in a home. If, more persons live in a house, the more regularly it should be cleaned thoroughly.
General things to do when starting deep Cleaning
Arrange a caddy: Deep cleaning your home does not necessitate the use of expensive specialty products. A scrubbing brush, baking soda, vacuum, rubber gloves, mop, sponge, spray bottle, broom, white vinegar, dish soap, and microfiber cloths are all excellent and inexpensive cleaning tools.
Declutter: Any noticeable stuff which does not relate to the space should be relocated (or, better yet, removed). To make your deep cleaning checklist easier, save the items inside the storeroom for another day. Removing clutter promotes deep cleaning easier, and seeing those clean surfaces might motivate you to keep cleaning.
Make an all-purpose cleaner: All-purpose cleaner is one thing that you need throughout your cleaning tasks. Instead of buying an expensive cleaner, you can make one at home by using white vinegar. In a spray bottle, combine 1 cup vinegar and 1 cup water and shake thoroughly. Your all-purpose cleaner is ready to use. Try to write the name of the solution on your spray bottle to avoid any risk.
Windows cleaning: Clean the edges and rails first. Then, spray the entire window glass with an all-purpose cleaner. Allow a minute for the cleaner to work before wiping it off. It will be simpler to see and fix streaks if you wipe them in one way on the inside glass and the other on the outside windows.
Detailed Guide to Deep Clean Your Home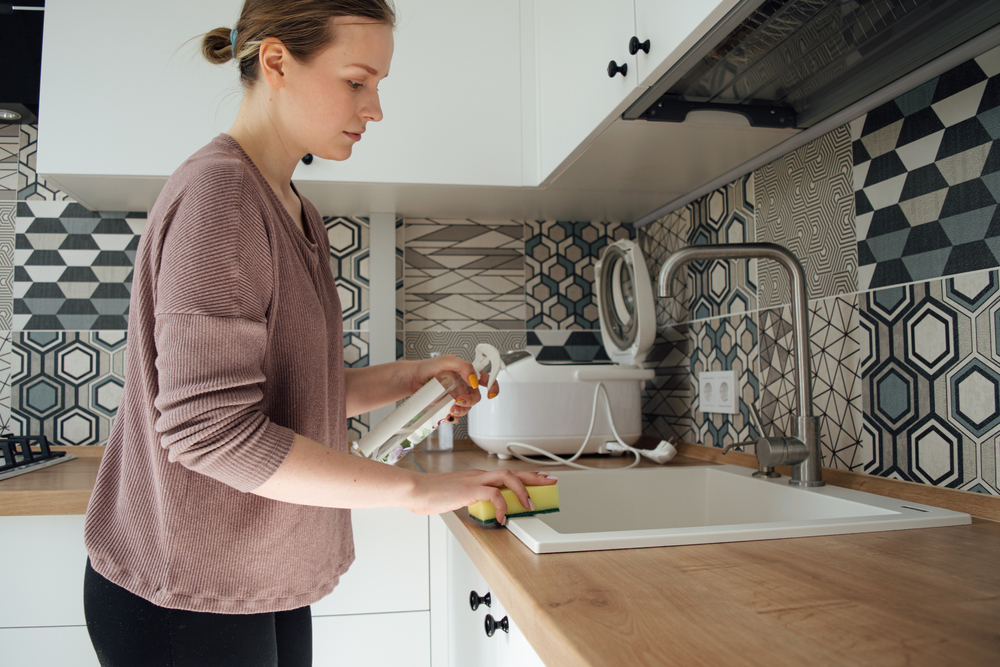 Deep Cleaning the Kitchen
Stovetop and oven: There are three methods for cleaning your oven. The first choice is the self-cleaning option. If your oven offers this function, clear the oven, and start this cycle. If this function is not available, use an all-purpose cleaner to clean it. scrub the stovetop with a soft scrub brush by using an all-purpose cleaner.
Microwave and dishwasher: Use a sponge and all-purpose cleaner to clean the microwave's interior. Remove and clean the tray as well. Wipe down the exterior with a sponge and a microfiber towel to finish. Clean the entire dishwasher. Empty it, clean the filter, then add 1 and 1/2 cups vinegar and operate it at the highest temperature to clean the interior. Wipe off the outside of the dishwasher using vinegar spray, then clean with a microfiber cloth.
Kitchen Sink and Countertops: Using warm soapy water and a scrub brush, wipe down the countertops and sink, paying careful attention to the areas surrounding the faucet. Countertops should be sanitized, and sinks should be disinfected. for this purpose, you can use white vinegar.
Deep Cleaning the Bathroom
Fixtures and bathtub: Prepare a mixture of baking soda and water and wipe with a brush if soap and water aren't making your tub and fixtures look great and clear of soap scum. Scrub all across your fixtures using a detail brush or an old toothbrush, then polish them with the microfiber cloth. Soak your shower head in water and vinegar overnight to clean it. You can do this by simply removing the showerhead or soaking a cloth with a cleaning solution and securing it around it.
Shower Curtains: If the bath curtain is made of fabric, follow the manufacturer's instructions for washing and drying. If the shower curtain liner has outlived its usefulness, trash it and replace it as needed.
Deep Cleaning the Bedroom
Wash linens that don't be washed as often as sheets, such as the duvet, dust ruffle, and shams, as directed.
Clean under your bed if you can reach it.
Using a moist microfiber cloth, wipe off all furniture.
Every 2 to 3 weeks, wash your pillows and comforters. Take your clothes to a laundromat or a professional cleaner if your washing machine isn't big enough.
Deep Cleaning of Living Room
Sofas: Begin with vacuuming, ensuring to get into all of the nooks and crevices. Using a fresh microfiber cloth, wipe down the entire couch. Dip a damp but not wet microfiber cloth into the all-purpose solution, then wipe down the entire sofa. Using a clean dry soft cloth, dry the sofa.
Furniture: vacuum the entire upholstery, along with the backsides, with the brush attachment to freshen the furniture.
Electronics: Using a microfiber cleaning cloth, dust the surface of the electronics. Wipe from top to bottom by simply a damp clean cloth with water. Spraying water or screen cleanser straight onto electronics, especially on screens, is not a good idea.
(Note: make sure to unplug the electronics and then start cleaning them).
Cleaning Floors throughout the home
Focus on eliminating stains, treating particularly high-traffic areas with tenacious filth, and washing grout if house floors are tiled during the deep cleaning. Begin by cleaning your hardwood or laminate flooring thoroughly.
Soak the stained area of your carpet in white vinegar to eliminate stains. Blot the stain with a towel to remove it instead of rubbing it. If you choose to use a carpet cleaning solution, carefully test it on an inconspicuous part of the carpet to ensure it does not discolor or do any damage.