SANITIZE AND DISINFECT YOUR HOME/OFFICE
Sometimes cleaning touchable surfaces with soap and water is just not enough to keep your place hygienic. You need to do sanitizing and disinfecting to eliminate germs and microorganisms. At CleaningCompany.AE, we are a certified company providing professional sanitizing and disinfecting services for homes, offices, and warehouses in Dubai. We use Dubai municipality-approved products and German-made Kärcher technology. We train all our professionals on the hygiene, health, and safety protocols issued by the government.
Difference between cleaning, sanitizing, and disinfecting
Cleaning is a process of simply removing the dirt, dust, and other impurities by scrubbing or wiping. But, sanitizing eliminates or reduces the number of germs to a safer level. On the other hand, disinfection refers to the killing of 100 percent of germs. This includes both bacteria and viruses on any surface or object. Disinfection helps to lower the infection. Sanitizing is done if the surface did not come in contact with dangerous bacteria. You need to do disinfection for toilets and sinks that have harmful bacteria. Also, for high-touch areas like doorknobs and switches.
How we do sanitizing and disinfecting?
We use disinfectant Huwa San 25 based on hydrogen peroxide which is a transparent, colorless, and odorless liquid. It is a broad-spectrum disinfectant for all kinds of surfaces (floors, walls, tables, pipelines, and equipment). The chemical is safe to use around children and pets, as it is food grade. Huwa San 25 is skin-safe, eco-friendly, and biodegradable. It degrades into water and oxygen, substances that are found naturally. We use both fogging and spraying for improved reach to all the surfaces and better efficiency. We use an electric ULV cold fogger machine and pump pressure sprayer.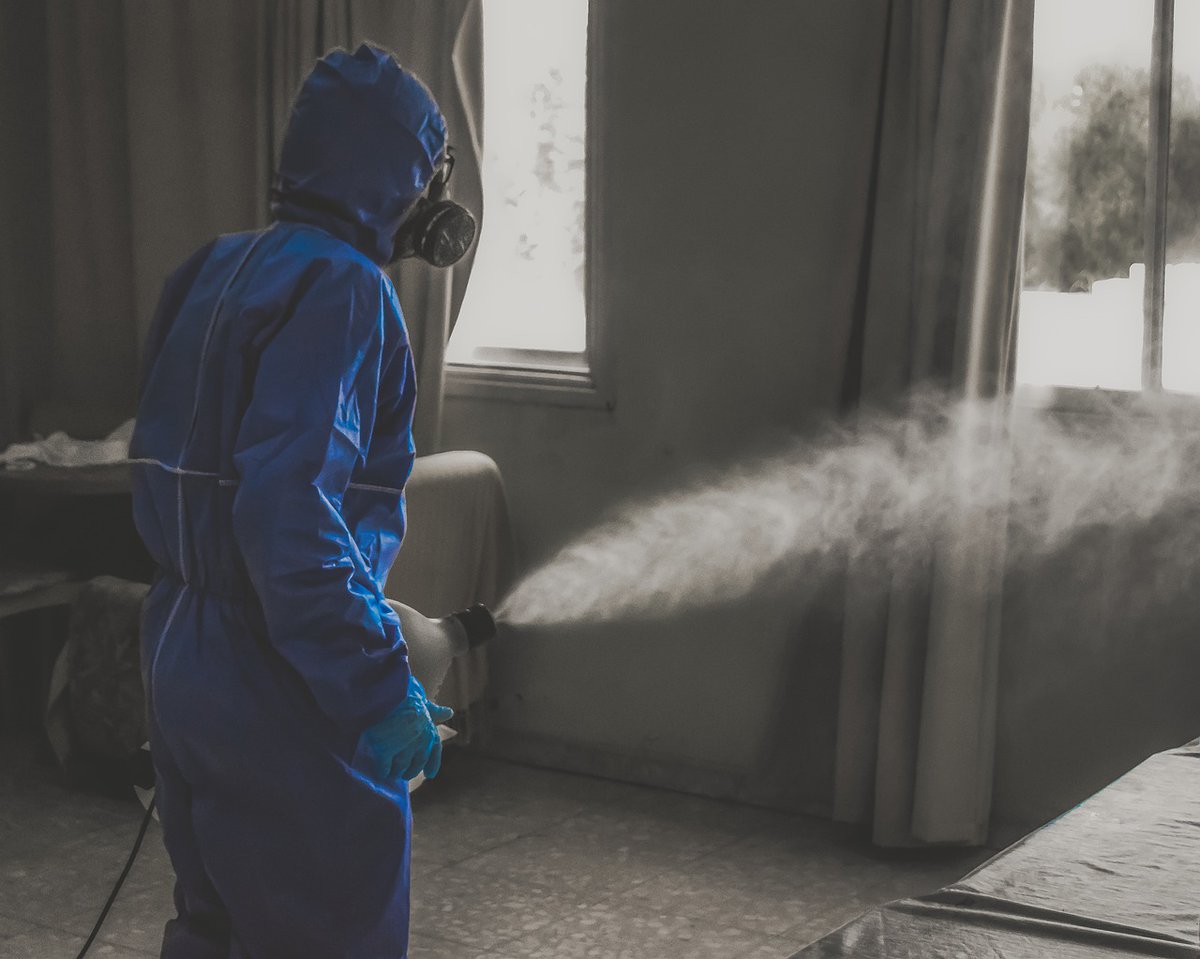 The main steps involved are:
Stage 1: Our staff reaches your place with Personal protective equipment gear(PPE) and the required tools. They clean and wipe down the surfaces to remove all the dirt or dust particles accumulated.
Stage 2: The professionals will spray or fog the sanitizing solution on the surfaces. Then it is left for 10- 15 minutes to dissolve and absorbed. We give special care to all the high touch-point surfaces like doorknobs, armrests, tables, switches, counters, light controls.
Stage 3: The final step is to wipe all wet areas. This process will make sure no chemical is present in your place.
Also, we use a compact and robust steam cleaner that offers outstanding power and certified disinfection. We do steaming for furniture, sofas, mattresses to get it sanitized. According to studies, steam cleaning eliminates 99.99% of common household bacteria. Steam has such a strong effect. Steaming is the best way of sanitizing without using chemicals. It is efficient and environment-friendly as it uses no chemical cleaning agents and low water consumption.
If you think your house or office requires disinfecting and sanitization in Dubai, Book online or  CALL US Free AT 80022764 right away.